May TBD (2019) – AROC National – AROC Goes to Italy Tour (May 2019).  Contact Cindy Banzer at c.banzer@aroc-usa.org.
==========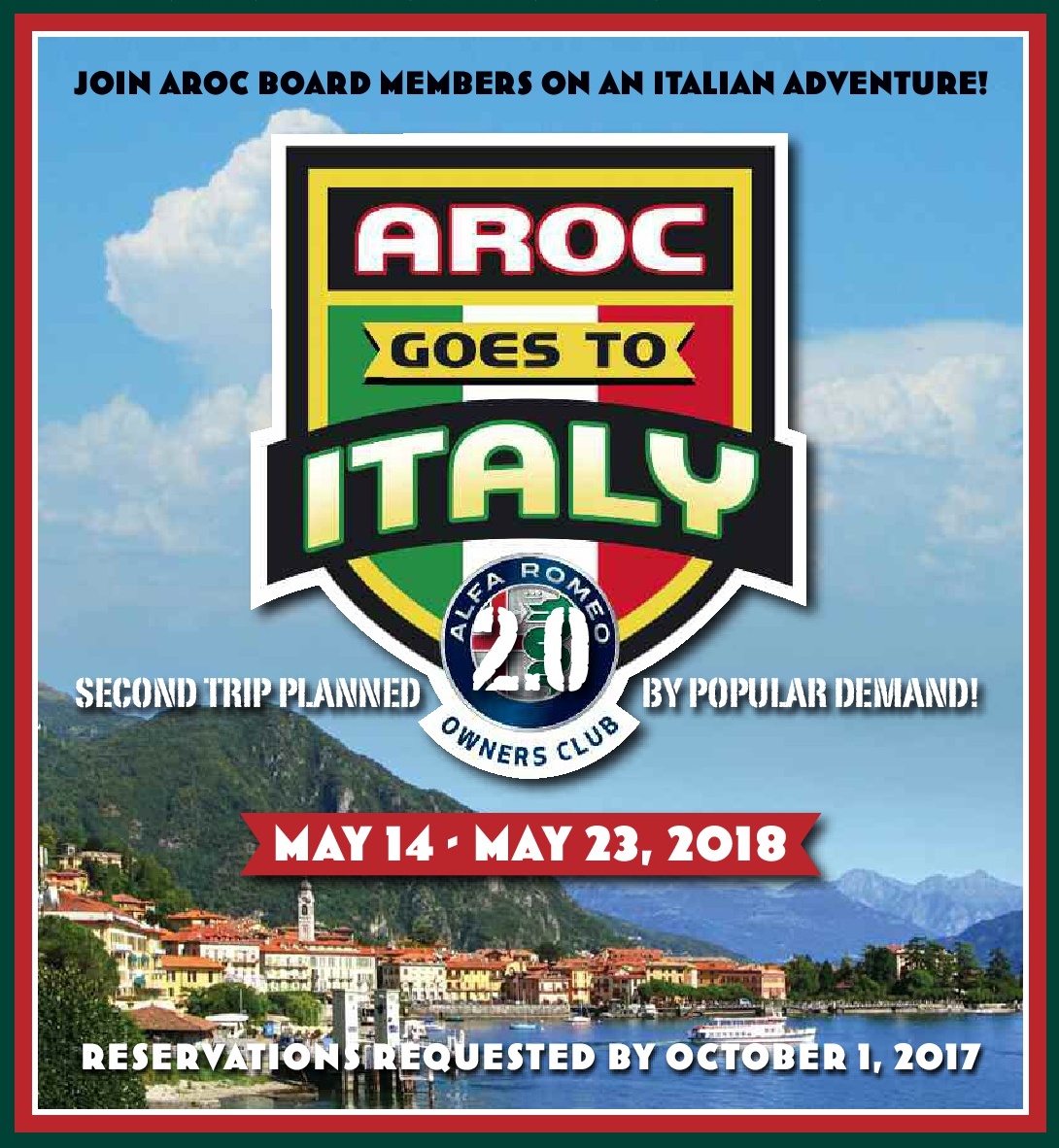 AROC Goes To Italy 2018 Brochure (tentative)
Welcome to our 2019 fabulous visit to Italy!  Join us in May 2019 if demand for a third tour remains strong!
We'll experience car manufacturers, museums, designers and, of course, incredible food. Highlighted are two extraordinary days, one with the new Alfa Romeo Museum and one with the 'send off' day at the Mille Miglia in Brescia.
Sandwiched between these highlights are visits to manufacturers and showrooms like Pagani, Lamborghini, Ferrari, Ducati, Maserati and of course, Alfa Romeo. The hotels and locations mirror the quality of this program.
This tour will be planned and scheduled in collaboration with Steve Austin's Great Vacations. Make plans now to experience this unforgettable Italian adventure, full of great fun and camaraderie!
Join AROC Board Members on an Italian Adventure!
This tour will be limited in size, to the approx 40 people – please register early!
We anticipate that registration and deposit whould be received by October 1, 2018.  The fully refundable deposit of $1,000 per person is necessary to hold the reservation, and guarantee the pricing as well.  The reservation would be cancelable with full refund of deposit until TBD (Winter 2018).  Pricing will be subject to the Euro exchange rate until TBD, when pricing may be adjusted if necessary and then fixed.
For a brochure & complete details, email: c.banzer@aroc-usa.org