June 5-15 (Mon-Thu) – AROC National – 6th Annual AROC Goes to Italy Tour. Contact the AROC Admin at aroc.office@aroc-usa.org or 971-254-6660.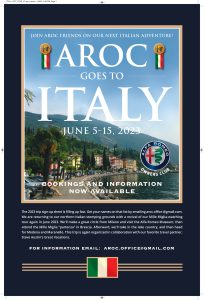 The June 2023 trip sign-up sheet is now available – note the new dates due to the change of the Mille Miglia dates. Get your names on that list by emailing aroc.office@aroc-usa.org or calling 971-254-6660.
As with the past five excursions, we'll begin in northern Italy, visit significant automobile collections and walk among the creations of the world's giants of art and design. We'll travel the scenic and historic roads of this most wonderful part of the world and absorb the best of Italian food and culture.
We will visit Brescia for the "Partenza" of the Mille Miglia cars. We plan to visit Lamborghini and Ducati factories and museums, the Cozzi and Righini private collections, the Lambretta Museum, and of course spend a full day at Alfa Romeo!
This trip will again be organized in collaboration with our favorite travel partner, Steve Austin's Great Vacations.
Click here to view the AROC Goes to Italy Tour #6 itinerary and booking form.
For information email to: aroc.office@aroc-usa.org for details.