October 19-23 (Thu-Mon) – AROC National – AROC Goes to the USGP in Austin, TX. Contact the AROC Admin at aroc.office@aroc-usa.org or 971-254-6660 for details.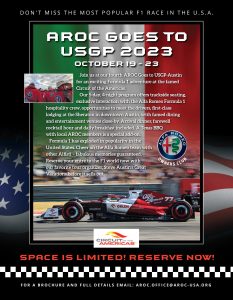 AROC is returning to the 2023 US Grand Prix in Austin, TX October 19-23! We have made arrangements for 20 double-occupancy rooms in downtown Austin. We expect this opportunity to sell out quickly – do not delay in signing up!
Click here for the 2023 AROC Goes to the US Grand Prix tour information.
For information email: aroc.office@aroc-usa.org