September 28 (Saturday) – AROO (Oregon) – Inaugural Giro di Coupe' Tour, 9 AM to 5 PM. Contact Dennis Howell at dennis.howell@alfaclub.org or 503-246-8359.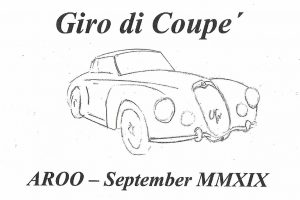 This tour will be on Saturday, September 28th. It will be a casual half-day drive starting at the north end of the North Plains Fred Meyers parking lot (Highway 26 west Exit 62A). Check-in is after 9:00 am, with departure at 10:00 am. There is no cost for the tour.
We will wind through coast range roads for about 120 miles, ending at a no-host but reserved lunch at Camp 18 with another 45 miles back to the starting point, on to the beach or wherever you might want. Restroom and scenic stops are planned along the way before lunch.
Limited space at scenic stop and lunch arrangements will cap entries to not much more that 20 cars. Advanced reservations appreciated. We hope not to turn anyone away.
This is an Alfa Romeo Coupe Tour to compliment the Old Spider and Old Super Tours. Of course, all are invited, however the Coupes go first! Let's hope it will become part of the permanent calendar.
Tour coordinator and leader is Dennis Howell. He can be contacted at dennis.howell@alfaclub.org or 503-246-8359.