Listed below are links that will assist owners of new and vintage Alfa Romeos in locating parts and services.
The first section is Collector Part Exchange (CPX), an online site that will help you find collector car parts for your Alfa or other collector vehicles. CPX will also allow you to post for sale parts that you might want to make available to other Alfa Romeo restorers.
The second section is a PDF file that is not an official list nor are the places or people in the PDF file endorsed by AROC. The list was developed by David Hammond and was last updated March of 2018.
Owner's Manuals, Workshop (Service & Parts), and wiring diagrams for most post WWII Alfa models are available through the AROC Tech Library. (Color wiring diagrams are courtesy of the late Jim Neill.) Email AROC Library
Collector Part Exchange
The Modern Way To Buy and Sell Parts For Collector Cars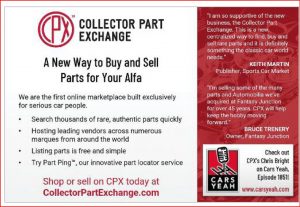 ABOUT COLLECTOR PART EXCHANGE We are building a new way to buy and sell parts for collector car parts. Our vision is to make it easier to keep our collector vehicles on the road -- running and looking their best. We do this by creating a great space online specifically for us that is easy and fun to use while supporting the great businesses that keep this hobby vibrant.